Leona Choy is an author, speaker, publisher, and broadcaster still going strong in His strength at 95 years of age. The following is reprinted with her permission from her 9/17/2020 blog at https://leonachoy.com/therestofthewayposts. I encourage you to visit her website and subscribe to her posts.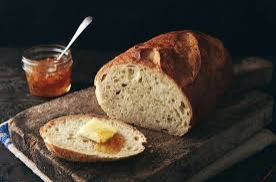 A Fresh Slice of Daily Bread
What does the Almanac predict for this fall?
For the benefit of younger generations who might never have heard of such a book, it is a formerly much-relied-upon annual paperback publication listing events forthcoming in the next year: weather forecasts, farmers' planting dates, tide tables, celestial data like eclipses, religious festivals and holidays. That was before the sophisticated technology of weather forecasting and today's scanning the heavens for astronomical data. In spite of all the refined applied science, the weather person on TV is seldom right on the button.
If we'd like to know the societal and political forecast for the rest of 2020 and into the next year, forget the Almanac. Don't consult some crystal ball. Google can't tell us either. Modern seers and prophets of the day are attempting to interpret their personal dreams. The Bible is being seriously studied to understand the signs of the times which many conclude are "the end times." We listen and then must pray and discern. God, who created this blue planet and mankind to populate it, is still in full control. He hasn't left us without a reliable Scriptural GPS for "things to come." At least to provide us with as much as we need to know to navigate one step at a time.
SO WHAT'S THE FORECAST? We can expect unusually stormy weather! Perhaps a fall and winter such as we have never known before. Not necessarily in amount of snow accumulation and severe temperatures, but in our daily way of life. Let's be realistic. Not to scare but to prepare ourselves and our families. It is a fantasy to expect our society to ever return to the lifestyles to which we had been accustomed.
What happened to the world we once knew? How is it possible that so many things could change so fast and so dramatically?
Look around: Society has lost its way. Possible, probable, incredible uncertainties and shakings are in the offing even as early as this fall: Facets of our society are moving at warp speed to cast off all restraints while insisting on ever-increasing entitlements. Evil powers both in heaven and on earth are reaching for the reset button to drastically change the trajectory of our beloved nation and the entire globe toward lawlessness. The spirit of the age is reflected in moral breakdown, free-floating ethics, the shakeup of our courts and justice systems changing the way our nation has been governed, redefining marriage, the family, even genetic identity. Natural catastrophes of unusual proportions are accelerating to shake the world and add to the threatening storm clouds.
Affecting Christians directly is the widespread mutiny against God, We face an anti-Christian future nation and world where intolerance has turned to outright hostility toward those who stand for moral absolutes. Our freedom to practice our Christian faith is in jeopardy. We are moving toward being controlled in many critical aspects of our lives where we have heretofore had liberty.
Let's not be afraid of "things to come" or let "our hearts fail us for fear." Nothing can separate those who belong to God from His love and care. (Romans 8:35-39) We are not to be anxious for daily protection and provision. Jesus promised that our Heavenly Father knows we have need of these things. "If God is for us, who can be against us?" (8:31) As God's children, part of God's Kingdom and His Body, we are not living through 2020 by accident. He has chosen us to live in this climactic generation to stand steadfast and shine in these prophetically "perilous times."
Although darkness encroaches on this entire planet, we can circumvent the pitfalls. Each of us must choose whether "me and my house will serve the Lord." Will we retreat and accommodate to the coming upheaval of the world system or will we stay anchored in Christ? Will we be overcome by the chaos and shaking or will we be courageous overcomers?
The genuineness of our Christian faith is soon to be tried by fire and tested. (James 1:2-4). Don't be surprised or think it strange or unusual. (1 Peter 4:12, 13) "Friends, when life gets really difficult, don't jump to the conclusion that God isn't on the job. Instead, be glad that you are in the very thick of what Christ experienced. This is a spiritual refining process, with glory just around the corner." (MSG)
We don't know about tomorrow, (James 4:13-15) but we know Who holds our hand. Let's trust the Lord completely and rest confidently in His peace even if the world's forecast is "probability of extreme weather conditions ahead."
"With all this going for us, my dear, dear friends, stand your ground. And don't hold back. Throw yourselves into the work of the Master, confident that nothing you do for him is a waste of time or effort." (1 Corinthians 15:58 MSG)
___________
A Note from Leona: May your readers become aware of the challenge of our uncertain times and at the same time our incredible opportunity as Christians which lies ahead of us. Without fear, in God we trust!
And from Marlene: Again I encourage you to visit Leona's website at https://leonachoy.com and be sure to visit her bookstore with 36 titles in print including 3 books for writers that I highly recommend: Release the Poet Within, This Is Your Life – Write It!, and Writing for the Supreme Editor.